Piano Instructor - Ms. Liu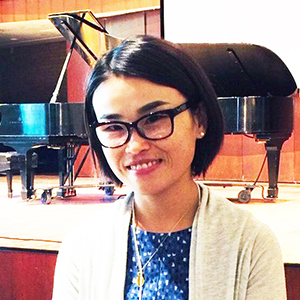 She has been engaged in piano teaching for more than 20 years
Has rich experience in one-on-one and group teaching for students of different ages. Since serving as a piano teacher at Q-Learning, most of the students who have been coached have passed the piano and music theory assessment of the Royal College of Music in Canada
Proficient in English bilingual teaching
During her time at Sias International College, she also served as the director of the Foreign Affairs Office, mainly responsible for music and cultural exchanges and lectures between the school and the outside world
Have a strong team work spirit and easy to communicate with others
Professional Qualifications:
Teacher Certificate of Higher Education Institutions of the People's Republic of China (University Lecturer)
Chinese Language Proficiency Test Certificate (1st Rank/B)
International Chinese Teacher Qualification Intermediate Certificate
CET
Canada Royal Conservatory Music Elementary Piano Course Certificate
Canada Royal Conservatory Music Advanced Piano Course Certificate
Education Background:
1997-1999 College of Music Education, Henan University Bachelor of Piano
1994-1997 College of Music Education, Henan University Piano Major
Since childhood, she has studied piano with Ms. Fang Luolan, a famous Chinese piano educator. After strict training and guidance from the teacher, she laid a solid foundation for piano performance. He has also benefited from the piano performances of the famous Chinese young piano playing house, the famous American pianist Sun Yiqiang and the famous American pianist Sam Rotman.
Working Experience:
2011-present Q-Learning Piano Teacher
2002-2011 Zhengzhou University Sias International College Opera Department Piano Teacher
1999-2002 Henan Art School Dance Piano Accompaniment Teacher
1999-2002 Institute of National Vocal Music, Henan University Piano Teacher
Job Performance and Awards:
In August 2006, he participated in the first Zhou Guangren Music Master Class Summer Camp Piano Teacher Training Course and successfully obtained the certificate of completion;
Study MIDI in spare time and obtain the Japan International Certification Level 3 Certificate of Appraisal;
Guide several students to receive the piano high-level certificate
Chinese Language Proficiency Test Certificate (1st Rank/B)